Thank You Darling People.
CLOSED AUGUST 24th!

R. Buckminster Fuller:
THE HISTORY
(and Mystery)
OF THE UNIVERSE


TAKE A RIDE ON
"SPACESHIP EARTH"

San Francisco Chronicle's Highest Rating
"D. W. Jacobs' play about the scientist, inventor and humanist is a solo tour de force by actor Ron Campbell, who drives and places the text with dramatic sense and generous energy. It's hard to image a better one man show." - LaSalle
Read full review

Meet "Bucky."

"Humanity now has the option to become successful on our planet if we reorient world production away from weaponry - from "killingry" to "livingry".
But can we convince humanity in time?"
- R. Buckminster Fuller




Written and Directed by
D. W. Jacobs
From the life, work and writings of
R. Buckminster Fuller
Performed by
Ron Campbell



Winner of Circle Critics Award for Best Solo Performance
Ron Campbell as
R. Buckminster Fuller

at


Project Artaud Theater
450 Florida Stet between Mariposa and 17th,
San Francisco

"I'm not trying to counsel any of you to do anything really special except dare to think.And to dare to go with the truth. And to dare to really love completely."
- R. Buckminster Fuller


What The Critics are Saying:

"Startlingly funny...intellectually stimulating, ...genuinely moving."
San Francisco Examiner, Hurwitt

"Physical, metaphysical, intellectual, eclectic, challenging, and hugely entertaining."
Los Angeles Times

"A roller coaster for the brain"
"Compelling and evocative performance"
Seattle Post-Intelligencer
Read full review

"High voltage performance"
Seattle Times
Read full review


The Dome we constructed in the lobby of Project Artaud Theatre. More about the Dome.




Ron Campbell as Buckminster Fuller.

"A compelling theatrical experience"
Seattle Weekly
Read full review

"Flawless delivery and startling vigor and panache...this remains an engaging and invigorating evening of theatrical mind candy."
Chicago Tribune
Read full review

"Fervent, funny, heart-wrenchingly poignant and impeccably detailed performance."
Chicago Sun-Times
Read full review

"A supernova of a hit, and its star, Ron Campbell a solar system of energy."
WBBM Radio Chicago

History and Mystery photos by David M. Allen, Estate of Buckminster Fuller, Werner Krutein (www.photovault.com), and Jeff Rowlings

---
Who Was Bucky?

An engineer, architect, mathematician, designer, poet, philosopher, motivational speaker, major utopian thinker and inventor of the geodesic dome, Buckminster Fuller was one of the most remarkable minds of the 20th century. Born in 1895, Bucky was way ahead of his time. Refusing to think in conventional ways, he was an innovator, a futurist, and one of the first true global thinkers.

What was Bucky Known For?

Coining the term "Spaceship Earth"
Inventing the Geodesic Dome (Disneyworld's Epcot Center is a good example)
Advocating use of technology to "make the world work for 100% of humanity"
Being one of the first to sound the alarm for worldwide environmental protection
Promoting renewable energy sources:"There is no energy crisis, only a crisis of ignorance."
Inventing World Games (as an alternative to War Games) as a tool for problem solving
Getting kicked out of Harvard - twice

Photo by David M. Allen
Ron Campbell as Buckminster Fuller.
---
Let us plan a wonderful evening for you. We offer a special dinner package at Whisper, only steps from the theatre. We guarantee good food and a great show, for a special price.
Check with the Social Director for more information.
---
The Buckminster Fuller Institute (BFI)
is a 501(c)(3) nonprofit organization comprised of a diverse group of individuals committed to a sustainable future. Founded in 1983 and inspired by the Design Science principles pioneered by the late Buckminster Fuller, BFI has served as an information resource to students, educators, authors, designers and concerned citizens working to advance humanity's options for success.
Mission
The Institute's mission is to be a catalyst for awareness and action directed towards the realization of humanity's option for success. BFI intends to fulfill its' mission by providing:

1. dramatic graphic display tools, global progress indicators, and educational resources which foster vital understanding of evolutionary developments impacting the success of humanity on board Spaceship Earth.

2. programs and services which build synergy between individuals, projects and organizations in order to accelerate the development and application of solutions to crucial global problems.

---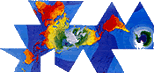 GENI: Global Energy Network Institute
Two decades ago, both the United Nations and Buckminster Fuller determined that a sufficient supply of electricity provides the foundation for a decent standard of living. By tapping the planet's abundant renewable energy, the needs of all humanity could be met in an environmentally sustainable fashion. The technology exists today, and it is cost competitive.
GENI is a non-profit educational organization which seeks to accelerate the attainment of optimal, ecologically sustainable energy solutions. Check out the GENI website for more information.
---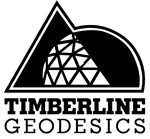 Timberline Geodesics has erected a 26' diameter, 18' high Dome in the lobby of the Project Artaud Theater. Come and see this amazing structure and ponder your
own Dome Home.
For more than 30 years, Timberline Geodesics has been dedicated to designing Timberline Geodesic Dome packages that make it easy, practical and affordable for people to construct their own homes. They are a leading manufacturer and designer of geodesic domes used for housing and commercial applications. Based in Berkeley, CA since 1969, Timberline had domes built in all fifty states and many foreign countries. They can be reached at 1-800-DOME-HOME (1-800-366-3466) or check out their site and explore how you can build your very own Dome Home.
---

Who are the artists working on the Bucky show?
Go BACKSTAGE to find out more about the people associated with this amazing show.